Students had a chance to visit with college admissions counselors from High Point University, located in North Carolina, right here in Baton Rouge via Studyville® College Recruiter nights this past week.  Visiting with recruiter Morgan Fowler, everyone learned what sets this university apart as a truly unique institution.
High Point University touts itself as the Premier Life Skills University®.  High Point takes pride in preparing students for business and real life experiences: 98% of graduates go on to graduate schools or the workforce.  Believe us when we say parents were all ears.
As the Premier Life Skills University®, High Point has a unique curriculum that includes the President's Seminar on life skills, public speaking, time management, presentation skills, and fiduciary responsibility.  Also…the meal plan includes one night a week at 1924 Prime, a fine dining restaurant experience.  To eat at 1924, students must call in advance to make a reservation, dress up in business attire, and put away all cell phones at the dinner table.  The wait staff teaches fine dining etiquette, and students are coached on interview and sales skills while enjoying a nice meal.  High Point wants students to graduate knowing how to close a deal.  This is especially great for entrepreneurs as business is done over dinner, and 1924 ensures their graduates are prepared to land the deal.
Don't know what to major in?  Guess what, as an 18 year old you don't have to know exactly what you are going to do for the rest of your life, and High Point recognizes this.  To aid its students in major selection, High Point incorporates a program called "Project Discovery" to help identify academic passions.  This program includes career counseling, personality profiles, feedback, interviews, seminars, and begins with Major-Palooza: an event where students have the ability to speak with professors in every major to get an initial understanding of the majors they are most interested in.
The number one major for High Point freshmen is "undeclared."  Other popular majors for freshmen are business, biology, exercise science, psychology, education, entrepreneurship, interior design, pre-pharm.  High Point also boasts the top B.A. in Event Management program in the world.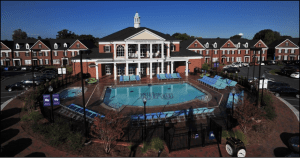 High Point has state of the art facilities; they are absolutely gorgeous. High Point boasts world class research facilities, including a stock trading room that imitates Wall Street.  This is one example of experiential learning which is available in every major.  Students also enjoy world-class faculty.  Computer science majors, for example, have the privilege of working with and being taught by Steve Wozniak, the co-founder of Apple.
Students at High Point are community focused and follow the university's mantra "To whom much is given, much shall be required" from the gospel of Luke. Freshmen are asked to come to campus with their favorite childhood book, which they then share with a child in the community outside the university.  Students together put in a total of 110,000 hours of community service.  One very popular program with High Point students is Best Buddies where  students mentor at-risk youth in the area.  High Point has an active Greek life, 200 clubs, and 16 NCAA Division 1 sports teams.
100% of classes at High Point University are taught by faculty, with a student-faculty ratio of 15-1.  All students are able to take advantage of a tuition-free 5th year Master's degree program in Communication and Business Leadership.  With 5,000 students living on campus all four years, there is actually room for nearly 10,000 making this university uniquely poised to accommodate pandemic concerns.  Dorms are actually suites and apartments, with plenty of individual privacy for safe quarantine and social distancing.
Early Decision and Early Admission are the best opportunities for scholarship.  High Point students who apply and are accepted early decision get priority housing, priority class selection, and early move-in.

Interested in more?  Contact Katie Zylicz at Studyville® today and she can walk you through the process of visiting and applying to the college of your dreams.