School is starting and your student may need help with French this year. Studyville employs experienced French tutors with a passion for sharing the language with others. If you are trying to learn or improve fluency in the French language, consider using a Studyville French tutor for the following benefits:
Correct pronunciation: A tutor can help with correct pronunciation and appropriate accents for the French language, which is crucial for effectively communicating in the language.
Personalized lessons: Studyville tutors will tailor their teaching style to match individual learning needs and pace. This personalized approach makes tutoring for French much more effective than classroom learning.
One-on-One attention: With a Studyville tutor, French students receive undivided attention and immediate feedback on dialect, flow, grammar, and word choice. This allows students to address specific questions, concerns, and problem areas in real-time.
Cultural insights: Our French tutors will also introduce students to French culture, customs, idiomatic expressions, and other language nuances that can only be learned when speaking one-on-one with a fluent French speaker.
The French language can be a challenge. Let us help.
The French love their language and French culture is known for being harsh on Americans and our lack of desire in learning French. Whether you are in school or looking to travel, having a French tutor to guide you to a place of comfort in the language, Studyville French tutors can help you meet those goals.
Learning a second language isn't easy, especially if you are doing so in an environment where you are not surrounded by native French speakers. The French language is a difficult language, with silent letters, homophones, and unique phonetic variations that do not exist in the English language. Utilizing a private French tutor at Studyville who offers personalized lessons to help each student meet their language goals will go further than any amount of frustrating time with Google translate.
How do I start with French tutoring?
The best step is to call Studyville and schedule an appointment with one of our French tutors. From there, Studyville French tutors can help you:
Assess your goals for learning the French language. Do you need to be fluent, pass an AP exam, or simply be able to order a simple coffee in Paris without sounding like a jerk?
Determine a schedule that will help you meet your goals for learning the French language.
Provide tools for regular practice such as identifying free online tools to aid your progress in learning French.
Stay committed to learning the language by scheduling regular sessions and check ins
Gauge progress through regular communication in sessions with clear methods for continuing learning French outside of the tutoring session.
You can start right now by booking a French tutoring session here now.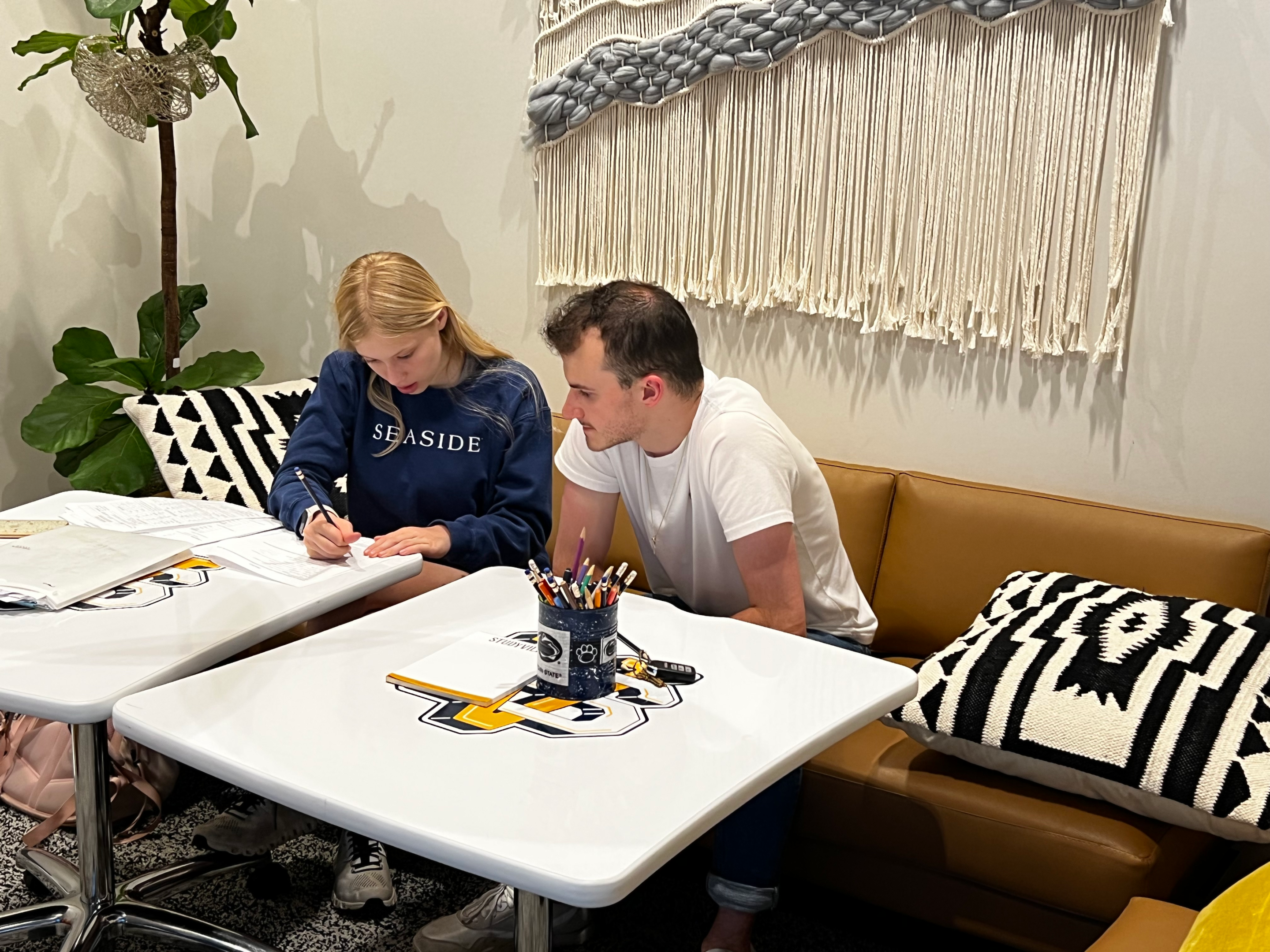 Who is the best French tutor for me?
The best French tutor will vary from student to student, but a really great tutor will make learning the language fun, not a chore. While verb congugating is never really fun, it is a necessary step in becoming fluent, and a good tutor will be able to show a student why knowing proper grammar is important for communicating in French.
A French tutor should be able to assess a student's fluency early on in the tutoring session. Find a French tutor who listens to you and can correct your accent and word choices without being a drill sergeant. Learning the language should be something you want to do, and attending a French tutoring session should be something you look forward to, not something you dread.
When will I be fluent in French?
Fluency can take time, especially if you are not in an environment of complete immersion in the language. Fluency can happen relatively soon if you are committed to learning the language and the work it takes to get you there. Outcomes can vary depending on the student, especially factors such as the following:
Previous language experience: If a student is already fluent in another language, learning French will be much easier, especially if it is a romantic language such as Italian or Spanish.
Intensity of study: A student who is in a French class or French tutoring session everyday will learn much more quickly than a student who is only exposed to the French language once a week.
Motivation and Dedication: French tutors can only do so much; the desire must to learn French must come from the student. Teaching French is all the more rewarding to a student who wants to learn, and if the student arrives to their French lessons with the desire to excel, the progress will be swift.
Are French tutors worth it?
Yes! For many learners, French tutors can be highly valuable and worth the investment. For just forty dollars, you can meet 1:1 with one of our French tutors in person today! Online French tutors can be great, but nothing quite beats the in-person experience with one of our Studyville tutors in Alexandria or Baton Rouge.
So whether you are taking a French course in school, are struggling with how to talk to a native French speaker, call us at Studyville for French help today!