Studyville® hosted Rollins College for a College Admissions night last night and let us just say…they had us at free jetskis.  Situated on beautiful Lake Virginia in Winter Park, Florida, Rollins students enjoy a beautiful atmosphere to study in, waterskiing activities (including a Division 1 Waterskiing team), free student access to jetskis and boats, internships with NASA and Disney, scuba certification for marine bio students in the Caribbean, and dorm rooms that look like the Ritz Carlton.
Rollins at Lake Virginia
Students at Rollins enjoy a small liberal arts education with a 10:1 student to professor ratio with no teaching assistants.  That's right; your student will be taught by an actual professor in an intimate classroom setting, not a TA.  Planning for life after college is of the highest priorities at Rollins; they want their students to grow to be contributing citizens in our society and strongly emphasize career and life planning.  97% of graduates go on to graduate school, the workforce, or service.  Amazon, Google, Disney, and IBM are a few of the employers for recent grads, while those continuing studies go to prestigious grad school programs such as Harvard Law School, Vanderbilt, Cambridge, Duke, and Columbia.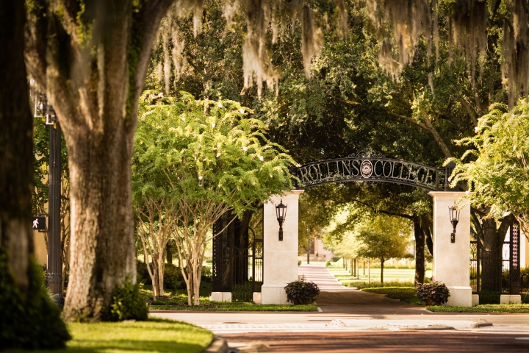 View the beautiful campus at https://360.rollins.edu
Popular majors at Rollins include business, science, and biology, especially marine biology.  Fun electives include classes such as "The Science of Chocolate," and "Fashion in Art History."  Internships are widely available for Rollins students to further their studies with experts in their fields, and study abroad programs are impressive.
Rollins is rated as a #7 Best Value School according to US News and World Report.  95% of all students receive some sort of financial aid or merit scholarship.  Every Rollins applicant is considered for $10,000 to $30,000 in merit and need based scholarship.
Get your application ready, because November 15 is when Rollins College will begin accepting applications, and priority for scholarships will be given to early applicants.  The average GPA is 3.4 non-weighted.  SATs are superscored and range from 1220-1360.  ACTs are not superscored and range from 25-30.  In some situations test scores can be waived, but all the more reason to have a stellar essay and prove demonstrated interest if that is a route you choose to take.
            Find out more about this wonderful school at https://rollins.edu